This is a message I received VIA our contact form that I thought I should share incase anyone was interested. Any thoughts / opinions on this project? Are there any independant projects or fan that you perceive as excellent that you think we should know about? Commence discussion.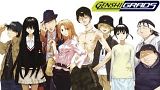 Hiya from Happy Famiree!
We're an up and coming fandub/comedy troupe and just wanted to tell ya about our 1st parody project: GenshiGrads.
A dark humor satire on the Society for the Study of Modern Visual Culture, we are curious to see what actual college anime clubs out there think of our take on the Genshiken anime series (which is basically all about being in an otaku/anime club!) So please feel free to check us out, and if you find it enjoyable, share it around with the rest of your fellow club members as we welcome the opportunity to not only have our series seen by the college demographic, but also welcome any and all comments, critiques, etc.
(Disclaimer: Due to Language, our series is definitely intended for audiences +18, but hey, we're all adults here, right?)
We hope you enjoy it and stay tuned, we're only just gettin' started!
-Happy Famiree Productions
http://www.youtube.com/user/HappyFamiree